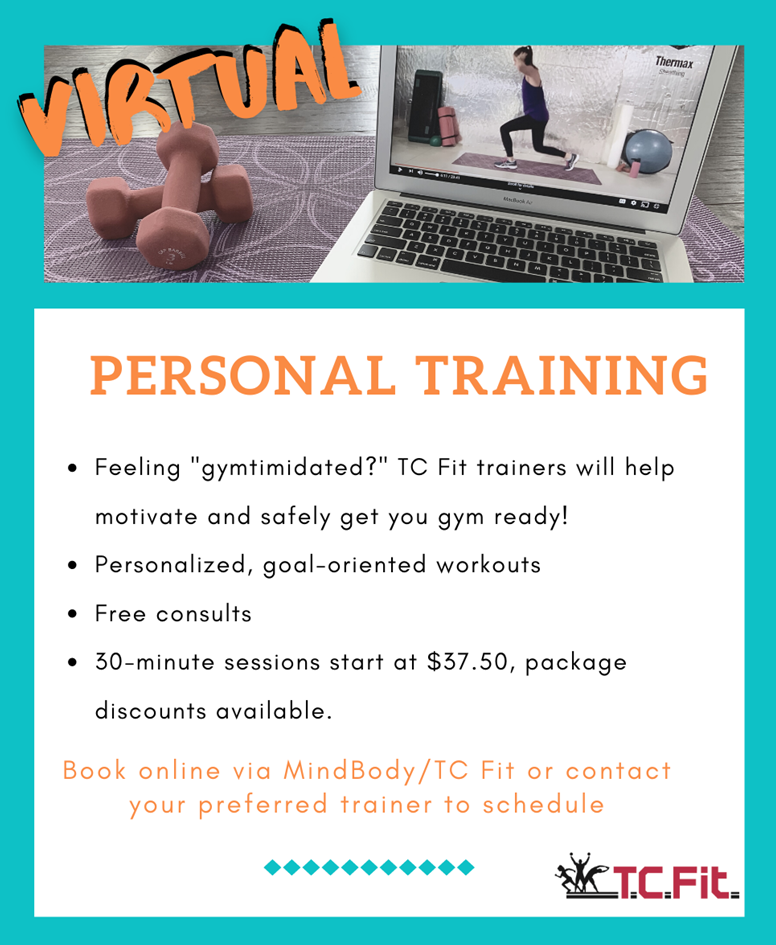 Scheduling
Contact your preferred trainer or Info@TCFit.com with your preferred date/time request.
Create a profile and complete the liability waiver on MindBody/TC Fit (new clients only).
Your trainer will confirm your appointment on MindBody and email you with the Zoom meeting ID and password.
During your free consult the trainer will meet with you to discuss fitness goals, review equipment/space and conduct a mini exercise routine to review movement mechanics.
Tips for a Successful Training Session
Larger screens are better for you to see your trainer demonstrate exercise movements. Computer, laptop and tablets are great options.
Confirm you're connected to the internet.
Close applications and web browsers when not in use.
Turn volume up or use a bluetooth headset, make sure it's connected to your device.
Camera is on and propped somewhere for the trainer to view you and your workout area. This way you won't have to move it when going from standing to sitting and vice versa.
We know shared spaces are not always quiet and calm; do the best you can to focus on your workout. Have your trainers contact info handy in case any last-minute schedule changes are needed.
Tips for Your In-home Workout Space
Create a safe space for movement and exercise.
Your trainer will connect with you prior to your session asking to have equipment available for your session. This will ensure efficient use of time for your workout.
If movements cause pain or don't feel right be sure to let your trainer know.
Feel free to play music in the background. But most of all, have fun!
Meet the TC Fit Trainers
Learn more about TC Fit payment, cancellation policies here.