Tuesdays
Additional availability upon request; email the therapist directly.
60-minute table massage ($90 + sales tax). Gratuity optional.
Studio U FAQ's
Where do appointments take place?
Massage therapy services are provided in a private treatment room in the Studio U suite.
Before your first visit please review the building directions.
Quick video directions to for accessing Studio U via the elevators.
Quick video directions to the lobby restrooms and stairwell access to Studio U. (Note: during COVID-19 restrictions these are the only restrooms available.)
Parking is easiest in the covered garage located at 1550 Duke Drive, St Louis Park (between the movie theater and the office complex). Your GPS may or may not recognize this address. The 1550 and 1600 parking garages are connected - use caution not to cross between buildings without knowing it.
From the 1550 Duke Drive parking garage ENTER ON THE LOBBY LEVEL and take the elevator down to P2/LL2. Exit the elevator, go up the short set of steps and through the door. Turn left in the hallway and StudioU will be straight ahead.
What to Expect
Following CDC guidance, clients may wear a mask based on their personal preferance informed by your personl level or risk.
Staff will continue to wear a mask for the duration of all sessions.
Lobby and waiting areas are now open for client use.
If you have had any symptoms of illness or think you may have been in contact with someone who has COVID-19 refrain from in-person appointments at this time.
Restroom facilities are only available on the lobby level. See video directions link posted above for location information.
View additional health and safety protocols here.
Massage Therapy is the manipulation of the body's soft tissue. These pressure and rubbing techniques have been shown to relive muscle tension and offer general relaxation. Sixty minute sessions allow for targeted work on one-two areas of the body (such as: neck, low back, shoulder or hip) or generalized work over the full body for head to toe relaxation.
Payments can be made before or after your session with credit card. Pay from home options are available. Please ask your therapist for additional info.
What should I wear? Table massage can be completed against the skin or over clothing. The therapist will work within your comfort zone and personal preference, applying pressure directly against skin or over light clothing. During the session all areas of the body not being worked will remain draped. The therapist can work over or around any clothing you choose to leave on.
Calming music will be played to help you relax. The therapist will check in with you periodically to make sure you are comfortable. You can ask for changes at any time (more/less pressure, spend more time on or avoid specific areas, adjustments to the room temperature, music, etc.)
When your treatment has ended the therapist will be available to answer any questions you have about the session. Everyone's body reacts a little differently to massage. Plan on taking a few minutes to relax post massage to re-acclimate.
If you received a deep tissue massage you may have soreness over the next day or two. Use an ice pack on these areas 2-3 times a day to help reduce swelling. If you have any questions or concerns please do not hesitate to contact the therapist for more guidance.
Waitlist
Did you know there is a waitlist? Log in to the MindBody website (waitlist is not available on the app). Search for your preferred appointment time. If not found select Waitlist in the top right side of your screen.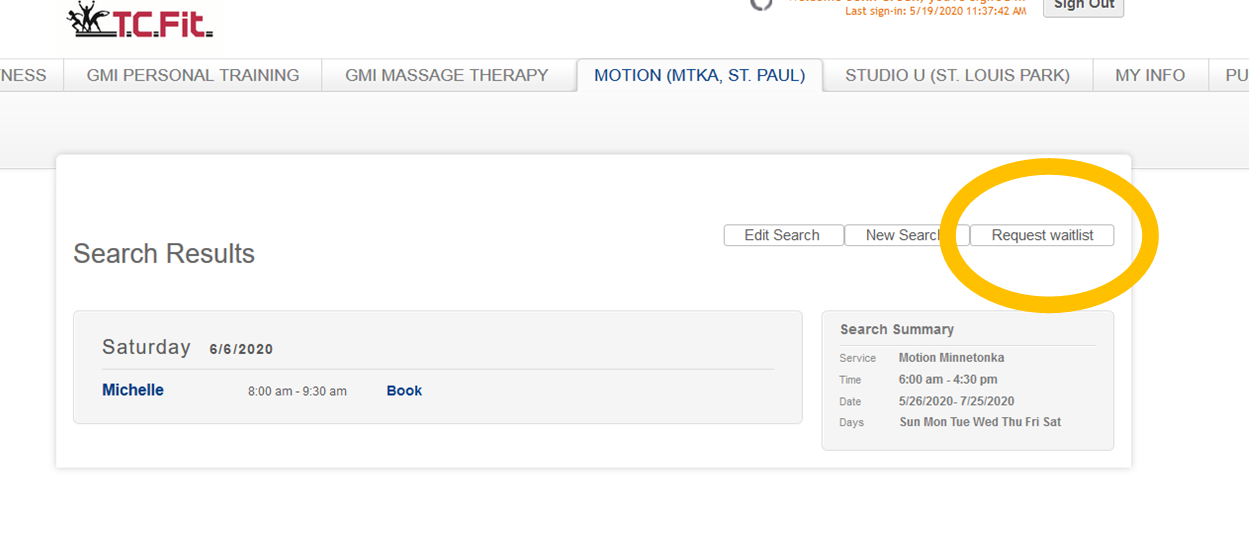 Cancellation Policy
Please contact your trainer if a schedule change or cancellation is needed. When possible we request you contact your massage therapist/personal trainer by 5pm the evening before your appointment.
Meet the Therapists